The Cogir of Bothell Memory Care experience starts with plenty of opportunities for cognitive enrichment, social interactions, and a general improvement of life quality. As we offer Alzheimer's care in Seattle together with well-thought amenities, the wellbeing of your loved ones is thoroughly ensured. Inside our community, independence and professional aid go hand in hand!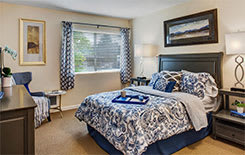 Accommodations and Services
The versatility of our floor plans allows for a carefree yet intimate experience. From laundry services to trash removal, housekeeping, and maintenance, we've taken every comfort into consideration. On top of it all, your loved ones will have WiFi and cable for easy online communication with family.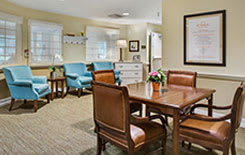 Layout and Amenities
On our campus, residents enjoy a life without limits thanks to numerous relaxing and joyful areas. Some of these include memory-triggering life skill stations, a café adorned with vintage décor, a lush courtyard, as well as a library with captivating volumes.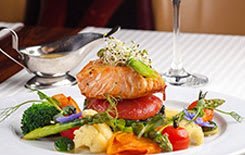 Food Services
Dining is a precious experience. Because of this, we provide high-quality meals prepared by nutritionists and chefs. We even meet special diet requirements – such as pureed foods – when needed. All of this is served in an elegant setting, with a large dining room always at our residents' disposal.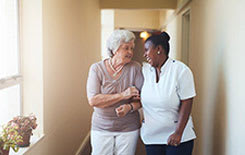 Care and Assistance
Our staff is well-prepared for any situation, meeting the Alzheimer's Association Care Practice Recommendations. Services include scheduling and transportation to medical appointments, help with mobility throughout, medicine administration, and support in terms of clothing, hygiene, and dining.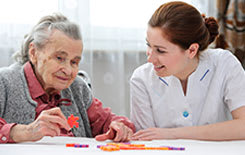 Activities and Leisure
Cogir of Bothell Memory Care is the place where loved ones discover a new meaning for beauty and joy. Seniors are encouraged to walk freely throughout the community, they have access to cozy lounges, reflection rooms, life skill stations, country kitchens, vintage cafés, and much more.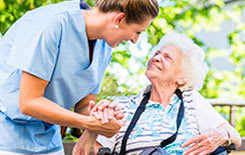 Safe Environment
The comfortable experience is mirrored by a secure environment. Our staff is well-trained for emergency response, quality surveillance and a 24-hour security system are guaranteed, and emergency pendants are provided when needed. On top of this Cogir exceeds all state sanitation guidelines.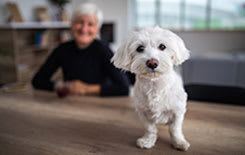 Pet Friendly
Nothing warms the heart more than the energy of a furry companion, be it a dog or a cat. Therefore, we created a pet-friendly environment where snuggles are the norm, adding a welcoming pet policy that highlights their importance. Kindly note: residents are responsible for the care of their pet.
Bothell Alzheimer's Care
With plenty of wellness-focused features and activities, residents will find an oasis of recreation and inspiration. Cogir of Bothell Memory Care is the place where you can walk daily in a flower-filled setting, enrich your cognitive talents with memory-engaging activities, or find pleasure in social outings and physical fitness classes. With the option of residing in a studio or companion suites, one can welcome independence combined with a carefree lifestyle, entertaining events, and an ideal address.
Our memory care community in Bothell is just a 20-minute drive away from Downtown Seattle and extremely close to Saint Edward State Park, Bothell Landing, and McMenamins Anderson School. Contact our team today!
Testimonials
I like Cogir of Bothell. It felt more open, even though it was safe and enclosed. I like that my mom could just go out any time because it's secure. It felt open and friendly and the staff was attentive. The person who gave me the tour seems very friendly and caring. They're not just doing a job, they do it because they want to.

- Mary (Caring.com)
My wife and I moved in about 3 weeks. During this time we have found all the staff to e very friendly and helpful. The kitchen staff work very hard to see to it that we get excellent food served to order, The weekly menu that is put out gives us something to look forward to all week. We are very happy here and well taken of.

- Michael H. (SeniorAdvisor.com)